Worship Banners
Salem has been blessed by our members' desire to serve the Lord throughout the decades. They have made decorative worship banners that beautify our sanctuary. Each of these banners has been hand-made and celebrates a Sacrament, a part of the church year, a Christian truth or a Bible verse.
Serve the Lord with gladness.
(Psalm 100:2)
Hear, O Israel! The Lord is our God. The Lord is one! Love the Lord your God with all your heart and with all your soul and with all your might. These words that I am commanding you today are to be on your heart. Teach them diligently to your children, and speak about them when you sit in your house and when you walk on the road, when you lie down and when you get up. Write them on the doorposts of your houses and on your gates.
(Deuteronomy 6:4-7,9)
Sacraments
Baptism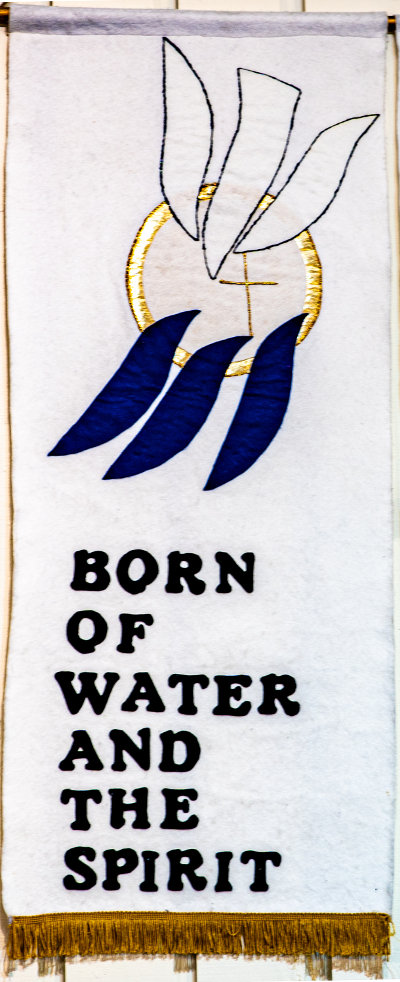 Jesus instituted the sacrament of Baptism when He said
Therefore go and gather disciples from all nations by baptizing them in the name of the Father and of the Son and of the Holy Spirit
(Matthew 28:19).
Even from birth we have a need for baptism since we have inherited a sinful nature from our parents.
Certainly, I was guilty when I was born.
I was sinful when my mother conceived me.
(Psalm 51:5)
It is through Baptism that the Holy Spirit creates faith and gives the blessings of forviveness, new life and salvation, working through the Word of God.
[H]e saved us—not by righteous works that we did ourselves, but because of his mercy. He saved us through the washing of rebirth and the renewal by the Holy Spirit, whom he poured out on us abundantly through Jesus Christ our Savior, so that, having been justified by his grace, we might become heirs in keeping with the hope of eternal life. This saying is trustworthy.
(Titus 3:5-8)
[B]aptism now saves you—not the removal of dirt from the body but the guarantee of a good conscience before God through the resurrection of Jesus Christ.
(I Peter 3:21)
This banner is placed to the right of the altar by the baptismal font when we have an adult or child baptism as part of our worship service.
The Lord's Supper
Just as Jesus instituted the sacrament of Baptism, He also instituted the sacrament of The Lord's Supper, also known as Holly Communion. In this sacrament, Jesus gives us His true body and blood in, with and under the bread and the wine. Along with this we also receive forgiveness of sins, new life in Christ and salvation in Heaven.
While they were eating, Jesus took bread, blessed and broke it, and gave it to the disciples. He said, Take, eat, this is my body. Then he took the cup, gave thanks, and gave it to them, saying, Drink from it all of you, for this is my blood of the new testament, which is poured out for many for the forgiveness of sins.
(Matthew 26:26-28)
For I received from the Lord what I also delivered to you: The Lord Jesus, on the night when he was betrayed, took bread, and when he had given thanks, he broke it and said, This is my body, which is for you. Do this in remembrance of me. In the same way, after the meal, he also took the cup, saying, This cup is the new testament in my blood. Do this, as often as you drink it, in remembrance of me. For as often as you eat this bread and drink the cup, you proclaim the Lord's death until he comes.
(I Corinthians 11:23-26)
These banners are often placed in the altar area when Holy Communion is celebrated, and in the seating area at other times.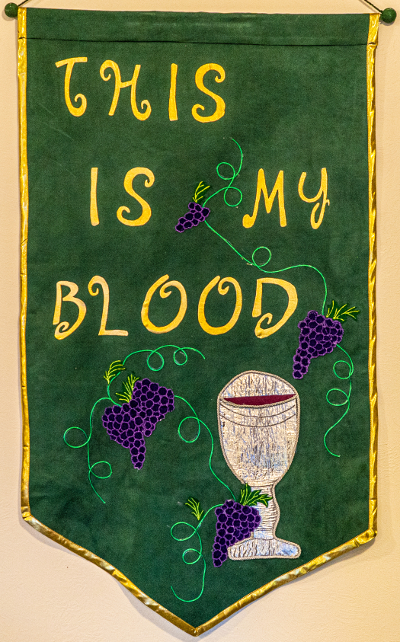 The Church Year
Palm Sunday
On the Sunday before Easter, at the beginning of Holy Week, Jesus rode triumphantly into Jerusalem.
The next day, the large crowd that had come for the Festival heard that Jesus was on his way to Jerusalem. Taking palm branches, they went out to meet him, shouting, Hosanna! Blessed is he who comes in the name of the Lord—the King of Israel!
Jesus found a young donkey and sat on it, just as it is written: Do not be afraid, daughter of Zion. Look! Your King is coming, seated on a donkey's colt. At first, his disciples did not understand these things. But when Jesus was glorified, then they remembered that these things had been written about him and that they did these things for him.
The crowd that was with him when he called Lazarus out of the tomb and raised him from the dead kept telling what they had seen. This is another reason a crowd met him: They heard he had done this miraculous sign.
(John 12:12-18)
These banners are placed on either side of the altar on Palm Sunday. At other times they are placed in the nave (seating area), one on the right side and one on the left side.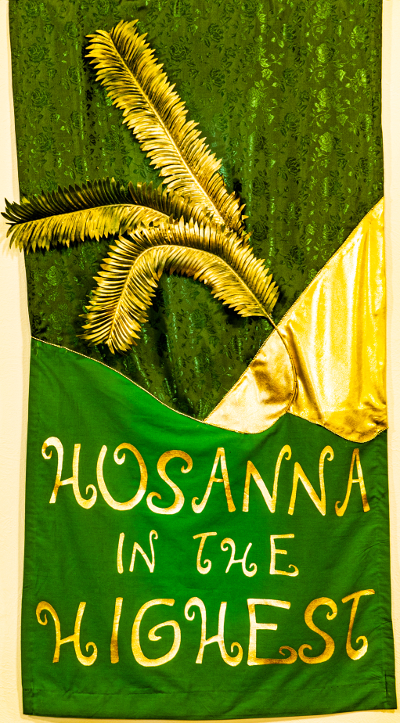 Easter Sunday
Jesus' resurrection on Easter Sunday is central to our Christian faith. Because Jesus rose from the dead, we know His payment for our salvation is complete. We also know that because He lives all who believe in Him will live in Heaven with Him as well.
On the first day of the week, very early in the morning, the women went to the tomb, carrying the spices they had prepared. They found that the stone had been rolled away from the tomb. When they went in, they did not find the body of the Lord Jesus. While they were wondering about this, suddenly two men stood by them in dazzling clothing. The women were terrified and bowed down with their faces to the ground.
The men said to them, Why are you looking for the living among the dead? He is not here, but has been raised! Remember how he told you while he was still in Galilee that the Son of Man must be delivered over to the hands of sinful men, and be crucified, and the third day rise again? Then they remembered his words.
When they returned from the tomb, they told all these things to the Eleven and to all the rest. It was Mary Magdalene, Joanna, Mary the mother of James, and the other women with them who told these things to the apostles. Yet these words seemed to them like nonsense, and they did not believe them. But Peter got up and ran to the tomb. Bending over to look in, he saw only the strips of linen cloth. He went home, amazed at what had happened.
(Luke 24:1-12)
Christ has been raised from the dead, the firstfruits of those who have fallen asleep. For since death came by a man, the resurrection of the dead also is going to come by a man. For as in Adam they all die, so also in Christ they all will be made alive.
(I Corinthians 15:20-22)
The Easter lily, the butterfly and the sunrise are all symbols and reminders of Christ's resurrection from the dead early on Easter morning. The word Alleluia is the New Testament version of the Old Testament Hebrew word Hallelujah which means Praise The Lord! During the somber 40 days of Lent, from Ash Wednesday to Good Friday, we traditionally do not sing Alleluia or Hallelujah. We bring these joyous words back to our worship on Easter Sunday singing them loudly as part of many of our Easter hymns.
These banners are placed on either side of the altar on Easter Sunday and during the Sundays after Easter. They are also placed in the nave of our church during the Easter season.
Ascension
Forty days after His resurrection, Jesus ascended back into Heaven. In so doing He showed that His work of salvation on Earth is complete, that He is going to prepare a place for believers in the glory pf Heaven and that, as the angel said, He will return again to bring all believers to be with Him in paradise.
[Jesus said,] Do not let your heart be troubled. Believe in God; believe also in me. In my Father's house are many mansions. If it were not so, I would have told you. I am going to prepare a place for you. And if I go and prepare a place for you, I will come again and take you to be with me, so that you may also be where I am.
(John 14:1-3)
After [Jesus] said these things, he was taken up while they were watching, and a cloud took him out of their sight. They were looking intently into the sky as he went away. Suddenly, two men in white clothes stood beside them. They said, Men of Galilee, why are you standing here looking up into the sky? This same Jesus, who has been taken up from you into heaven, will come back in the same way you have seen him go into heaven.
(Acts 1:9-11)
This banner is placed on either side of the altar during the Ascension worship service and in the seating area at other times during the church year.
Christian Truths
Grace & Love
Two key truths of the Christian faith are
Grace
and
Love
.
Grace is God's underserved love for mankind. God sent His Son, Jesus, to suffer and die to save the world from sin not because we had earned or deserved it. He did it purely as an act of His love toward us.
But God, because he is rich in mercy, because of the great love with which he loved us, made us alive with Christ even when we were dead in trespasses. It is by grace you have been saved! He also raised us up with Christ and seated us with him in the heavenly places in Christ Jesus. He did this so that, in the coming ages, he might demonstrate the surpassing riches of his grace in kindness toward us in Christ Jesus. Indeed, it is by grace you have been saved, through faith—and this is not from yourselves, it is the gift of God–not by works, so that no one can boast.
(Ephesians 2:4-9)
The Love of God is not a warm, fuzzy feeling God has toward the world. It is Love in action: God the Father saving the sinful world by means of His Son, Jesus Christ. It is the Love of Christ in action, willingly going to the cross to suffer and die to pay for the sins of the world. It is the Love of the Holy Spirit creating and sustaining faith in believers to see in the resurrection on Easter the sure and certain hope of the resurrection to eternal life in Heaven.
For God so loved the world that he gave his only–begotten Son, that whoever believes in him shall not perish, but have eternal life. For God did not send his Son into the world to condemn the world, but to save the world through him. The one who believes in him is not condemned.
(John 3:16-18)
These two banners are placed in tandem on either side of the sanctuary throughout the year.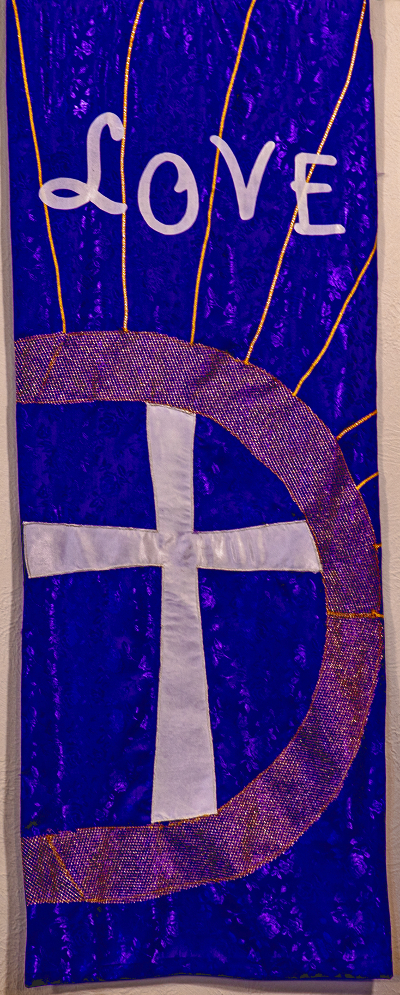 Holy & Peace

These two words,
Holy
and
Peace
, describe who God is and what He has given to all by His love for all in Christ Jesus.
God is holy, He is sinless and perfect. At creation, the world was perfect and sinless too, including mankind. Yet, because of man's fall into sin, all of creation is now tainted and corrupted by sin. It is no longer perfect. It no longer meets the holy and righteous demands of a perfect, sinless and holy God. God the Father, in His love, sent His Son Jesus to die on the cross to pay for the sins of all of fallen mankind. We are saved by God's love in Christ.
In the year that King Uzziah died, I saw the

Lord

sitting on a throne, high and exalted, and the train of his robe filled the temple. Above him stood the seraphim. Each one had six wings. With two they covered their faces. With two they covered their feet. With two they flew. One called to another and said,
Holy, holy, holy is the

Lord

of Armies!
The whole earth is full of his glory!
(Isaiah 6:1-3)
[God] saved us and called us with a holy calling, not because of our works, but because of his own purpose and grace. This grace was given to us in Christ Jesus before time began, and it has now been revealed through the appearance of our Savior Christ Jesus, who abolished death and brought life and immortality to light through the gospel.
(II Timothy 1:9-10)
These banners are placed in tandem on either side of the seating area.
Trust & Faith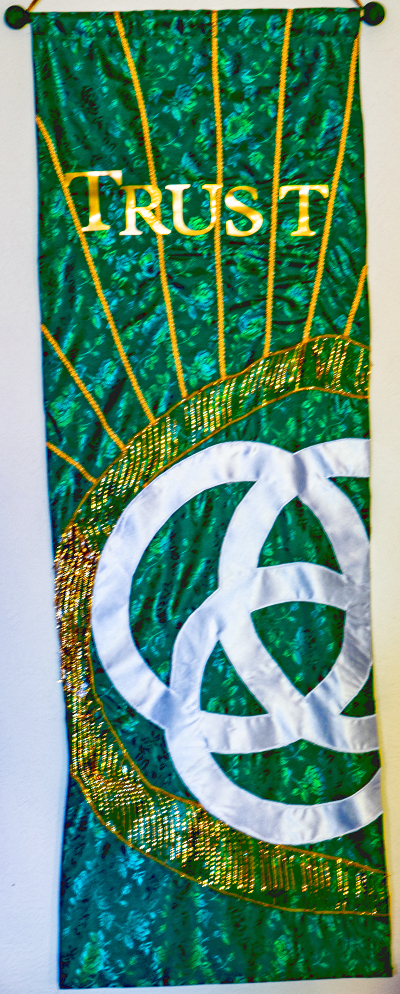 The words
Trust
and
Faith
are synonymous. Both are found in Scripture and describe the confidence given by the Holy Spirit. This
Faith
clings to the promises of God for Salvation though Jesus Christ. We
Trust
all that God tells us in His Word because of the gift of
Faith
which comed from the Holy Spirit working through God's Word and Sacraments.
Indeed, it is by grace you have been saved, through faith—and this is not from yourselves, it is the gift of God—not by works, so that no one can boast.
(Ephesians 2:8-9)
Faith is being sure about what we hope for, being convinced about things we do not see. By faith we know that the universe was created by God's word, so that what is seen did not come from visible things.
(Hebrews 11:1,3)
Trust in the Lord with all your heart,
and do not rely on your own understanding.
(Proverbs 3:5)
Bible Verses
Psalm 23 & Psalm 136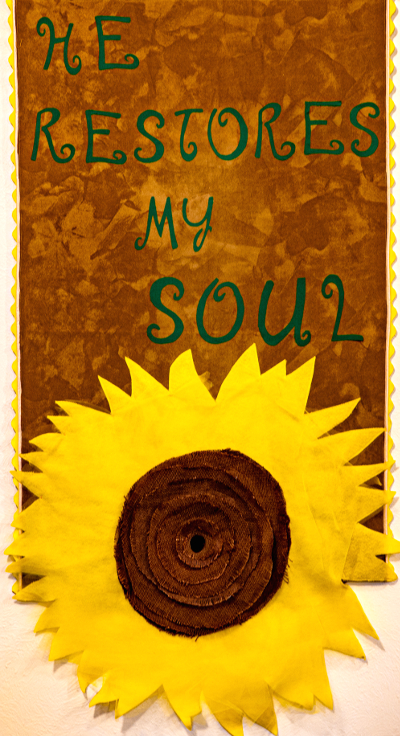 These two "flower" banners remind us of wonderful comforts found throughout God's Word, especially in the Psalms. The first,
He Restores My Soul,
is found in Psalm 23:3. There the
Lord
paints a beautiful picture of Him as our Good Shepherd always watching over us. The forgiveness of sins that Christ has won for all by His death and resurrection, and the peace that results between God and man, does indeed restore our soul. The second banner,
His Love Endures Forever,
is the refrain of every verse of Psalm 136 which recalls the
Lord
's love and care in the history of Israel, which is the salvation history of the entire world.
The

Lord

is my shepherd.
I lack nothing.
He causes me to lie down in green pastures.
He leads me beside quiet waters.
He restores my soul.
He guides me in paths of righteousness for his name's sake.
(Psalm 23:1-3)
Give thanks to the

Lord

, for he is good.
His love endures forever.
Give thanks to the God of gods.
His love endures forever.
Give thanks to the

Lord

of lords:
His love endures forever.
(Psalm 136:1-3 [NIV])
These banners are placed as a pair on either side of the nave across from one another.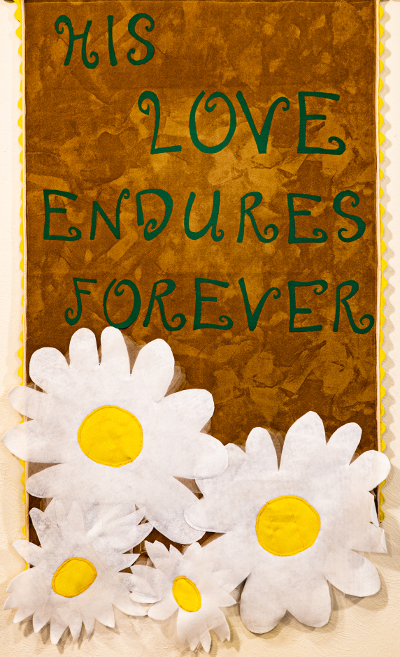 Psalm 51 & Psalm 46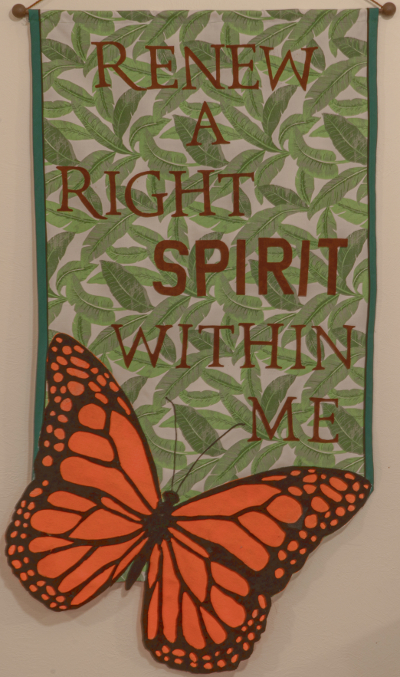 These two
butterfly
banners both remind us of the beauty and joy of God's creation and the comfort that The
Lord
provides in His holy Word. The banner on the left proclaims:
Renew a right spirit within me.
These words come from Psalm 51 in which David confesses his sin with Bathsheba, pleads for God's forgiveness and trusts in God's promise of a Savior. He then asks The
Lord
of salvation for the Holy Spirit to dwell in him to guide him as he desires to live for God in the joy of forgiveness. At Salem we regularly sing these words as part of our liturgy after the sermon.
Create in me a clean heart, O God; and renew a right spirit within me.
(Psalm 51:10 [KJV])
The banner on the right proclaims: Be still and know that I am God. This is a verse from Psalm 46. This Psalm is one for comfort for the believer, especially when it seems that the world is out of control. Whether natural disasters are troubling you, wars or rumors of wars terrify you, remember that God, The Lord is always in control.
Nations are in turmoil. Kingdoms fall.
God raises his voice. The earth melts.
The

Lord

of Armies is with us.
The God of Jacob is a fortress for us.
Come, look at the works of the

Lord

.
What a wasteland he has made of the earth!
He makes wars cease to the end of the earth.
He shatters the bow. He cuts up the spear.
He burns the carts with fire.
Be still, and know that I am God.
I will be exalted among the nations.
I will be exalted on the earth.
The

Lord

of Armies is with us.
The God of Jacob is a fortress for us.
(Psalm 46:6-11)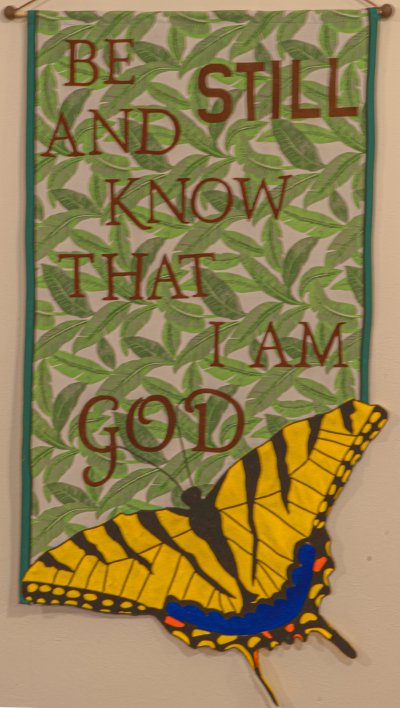 Luke 18 & John 21
These two banners remind us of the importance of Christian Education.
Fathers, do not provoke your children to anger, but bring them up in the training and instruction of the Lord.
(Ephesians 6:4)
Salem congregation has a rich history of Christian Education, with a Kindergarten through Eighth-grade Christian school and a Pre-school in the past. We currently offer Sunday School every Sunday and Vacation Bible School once a year in the summer. These banners proclaim the words of Jesus as found in the Gospels:
People were bringing even their babies to Jesus, so that he would touch them. When the disciples saw this, they began to rebuke them. But Jesus invited them, saying, Let the little children come to me, and do not hinder them, for the kingdom of God belongs to such as these. Amen I tell you: Whoever does not receive the kingdom of God like a little child will never enter it.
(Luke 18:15-17)
Jesus asked Simon Peter, Simon, son of John, do you love me more than these?
Yes, Lord, he said, you know that I care about you.
Jesus told him, Feed my lambs.
(John 21:15)