Church Library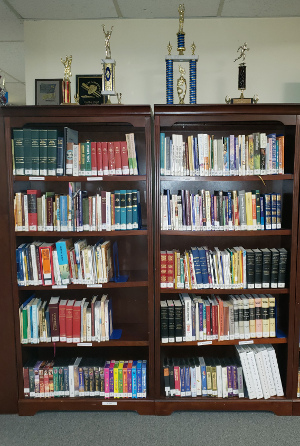 Two of our many shelves of books
Our church library has a collection of over 1000 books with almost 900 unique titles. The various subjects include the history of the Christian Church, doctrine, Bible commentaries and many more.
Finally, brothers, whatever is true, whatever is honorable, whatever is right, whatever is pure, whatever is lovely, whatever is commendable, if anything is excellent, and if anything is praiseworthy, think about these things.
(Phillipians 4:8)
Give advice to a wise person, and he will become even wiser. Teach a righteous person, and he will add to his learning.
(Proverbs 9:9)
We have a vast collection located downstairs in our church building, as well as a library display table with monthly changing themes in the back of our sanctuary.
You can even explore our collection online . It is very easy to use. You can search for a book by title, author, keyword, or subject. To see all the books at once, just click on the Your Books tab. The call number (where the book is located physically on the library shelf) is found on the first line of the Comments section.
We are blessed to have a trained church librarian, Mrs. Suzann Alstrin, who oversees all of these gifts from our Lord.
Also, located next to our library are two bulletin boards, which Mrs. Alstrin update according to the theme of our worship on a regular basis.